Hareide's team made a successful debut in the new event, thanks to Eriksen's double against Bale and his team mates. 

Hamsik and Skriniar defeated in Ukraine
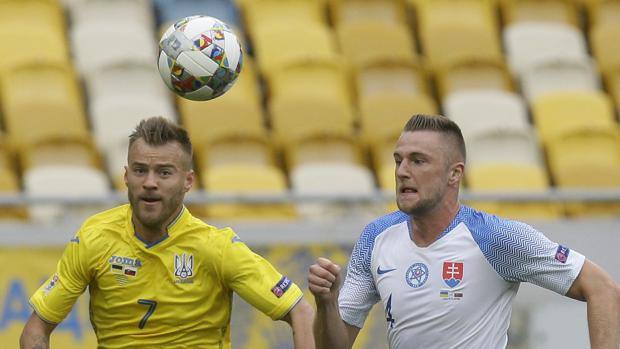 Skriniar against Yarmolenko in Ukraine-Slovakia. ap
After the agreement between the players and the Federation, the real Denmark is back. Filed in the friendly match against Slovakia, in which players from the minor league and futsal were fielded for protest, the Hareide team successfully inaugurates its Nations League (Serie B, Group 4). A 2-0 without repeats to Wales of Bale with a shotgun Eriksen, scored in the first half with a diagonal winning and then in the second half from the penalty spot.
BIS UKRAINE

 – Also for the B Series, but for the Group 1, to signal the new success of Ukraine, which had already beaten the Czech Republic away (2-1): the boys of Andriy Shevchenko in Lviv exceed 1-0 Slovakia of Hamsik and Skriniar. The former Inter was the protagonist of the episode that decided the match at 80 ', committing the penalty foul on Tsygankov, who two minutes earlier had entered the place of Konoplyanka: held in the area and 11 meters Yarmolenko not wrong . For Sheva new success and 6 games to be undefeated in 2018.
SERIE C

 – In Group 3 also makes an encore Bulgaria, 1-0 victorious on Norway with the goal of Vasilev's match in the 59th minute. In the other group match, Cyprus won an unexpected success against Slovenia of the "Italians" Belec, Kurtic and Zajc: 2-1 the final result with the Slovenian initial advantage of Beric in the 54th minute, before the Cypriot comeback thanks to the Sotiriou (69 ') and Stojanovic's own goal at 89'.
SERIE D

 – In Group 1 Georgia won three points after beating Latvia: the penalty converted to 77 'by Okriashvili was decisive. Henrikh Mkhitaryan's Armenia surprisingly fell in Macedonia (2-0): the hosts won the second success with Alioski's penalty and Pandev's seal in the second half. Liechtenstein, after the defeat in the opening match, finds the 2-0 victory against Gibraltar: the goals, one by one, by Salanovic (32 ') and Wieser (72').