DJ Koh, CEO of Samsung said this week in an interview that the company's foldable smartphone will be showcased to developers in November so they can work on apps and tailor them to the device that should be announced in early 2019. And missing around two months before Samsung's meeting with developers, a lot of information should continue leaking and indicating the path the South Korean giant intends to follow.
So far the current leaks indicate that Samsung can invest in a folding smartphone in the traditional bar format, but with a higher standard screen that would result in a display of approximately 7 inches diagonally. This display would be folded in only and the joints would not be designed for the device to bend 360 degrees, but 180 degrees as we can see in this prototype revealed this week .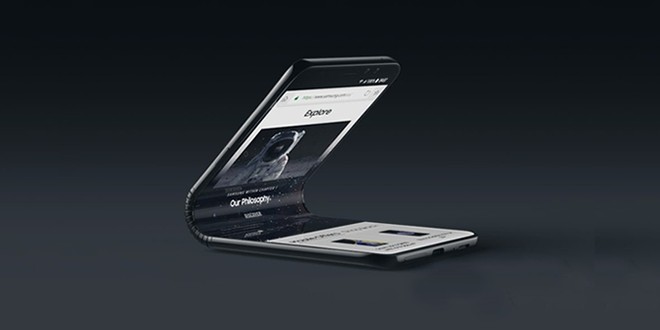 To prevent the device from opening and closing constantly, Samsung could invest in a secondary screen on the back of the device . That way, when the smartphone is closed , the user would still be able to access some features with the 4.6-inch display. This information has been leaked previously and is now strengthened again, which may be a strong indication that Samsung is finalizing the design of the device.
This is pointed out by the Korean website ETNews, which also states that when folded, the smartphone would have a gap of only 3 mm thickness in the joint region, which reinforces the possibility of the device design being very similar to what we saw in this concept , but with a different back cover.
The site also points out that Samsung would be planning to schedule Galaxy F's initial production (or what the future name of the foldable smartphone) range between 100,000 and 120,000 units a month. These are low numbers when compared to the millions of monthly units produced for the Galaxy S and Note line, but it is worth remembering that the cost of production linked to the cost of sales of the foldable smartphone is a decisive factor for the limited manufacturing.
Meanwhile, Samsung may begin production of 150 to 180,000 units of collapsible screens in October, indicating that the company must also provide them to partner companies.
In any case, we are closer to the new era of mobile devices that will rescue the essence of flip phones from the beginning of this century. What do you expect from the folding smartphones? Do you think it's a decent development? Technology bet? Is it just another way for companies to charge more for smartphones? Leave a Reply