Not surprisingly, some brands have been accused during the history of the technology of defrauding the benchmark tests, in order to be better ranked in the market. Among those already accused, we can mention HTC, LG, Asus , OnePlus and Samsung .
At that time, the noise was great and the applications created mechanisms to prevent new cases from occurring.
However, the issue returned, thanks to the recognition by Huawei and Honor that these manipulations still existed and that both made use of this artifice to gain prominence in the news around the world.
Basically, the processor would recognize that a benchmark application is testing the device and the device automatically disables the thermal protections, thus allowing the processor to perform better.
However, the sincerity of the two brands was not well received by the team of 3DMark, test application that decided to exclude from the database four devices, three of Huawei and one of Honor. Are they:
With this, the above devices will no longer have a 3DMark ranking, which makes it impossible to compare with others who were honest in the tests.
How did they identify the manipulation of the data?
Futuremark Oy, developer of 3DMark took the marks in a simpler way than they could imagine.
According to the email sent to Patrick Moorhead of Moor Insights & Strategy, the application has two versions being only public. Because brands are unaware of the second version, which is internal to Futuremark, they are unable to create triggers that recognize it, thus preventing automatic unlocking.
The summary was that the devices in question scored 47% better in the public application, thus showing the manipulation of the data.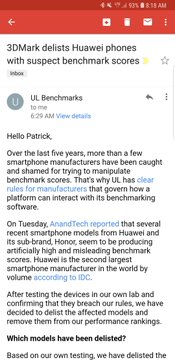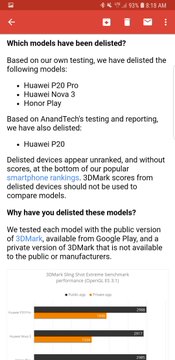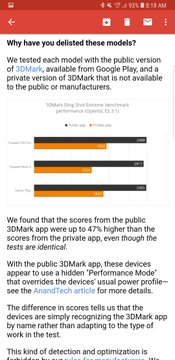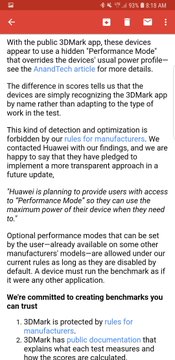 Patrick Moorhead

✔@PatrickMoorhead

Huawei P20 Pro, P20, Nova 3 and Honor Play smartphones just delisted by @ul_benchmarks 3DMark. Ouch.

56

46 pessoas estão falando sobre isso